Benefits for Government
IT in the public eye
Less is more, or is it?
Like any public sector organization, local government faces the ongoing challenge of providing quality services at minimal cost. The demands on them are pressing. Firstly, the population wants to interact online with local government departments and expects easy access to information. Secondly, their own workforce needs computing systems that support data sharing and interoperability across departments. Finally, modest operating budgets make securing funds for new IT projects a constant battle.
Scense Workspace Management
The no-nonsense approach to IT often found in government organization can be both an advantage and a burden. If it's not broken there's no need to fix or replace it, even though it might be out-dated and slow. This 'policy' leads to a mixed environment of all sorts of hard- and software, ranging from ancient to modern. Scense loves mixed environments and works with operating systems from Windows XP to Windows 10, which makes it possible to embrace even those elderly systems and manage them in exactly the same way as you would manage the modern ones. This means you can take your time and get the most out of your investments and modernize at your own pace. But also for the government organizations with state-of-the-art technology, Scense Workspace Managment will help you decrease IT-management effort, helpdesk calls and costs in general.
"Scense did not force us to limit our options."
Delfland Waterboard
See how Scense Workspace Management helps Delfland delivering a consistent workspace.
Read the Success Story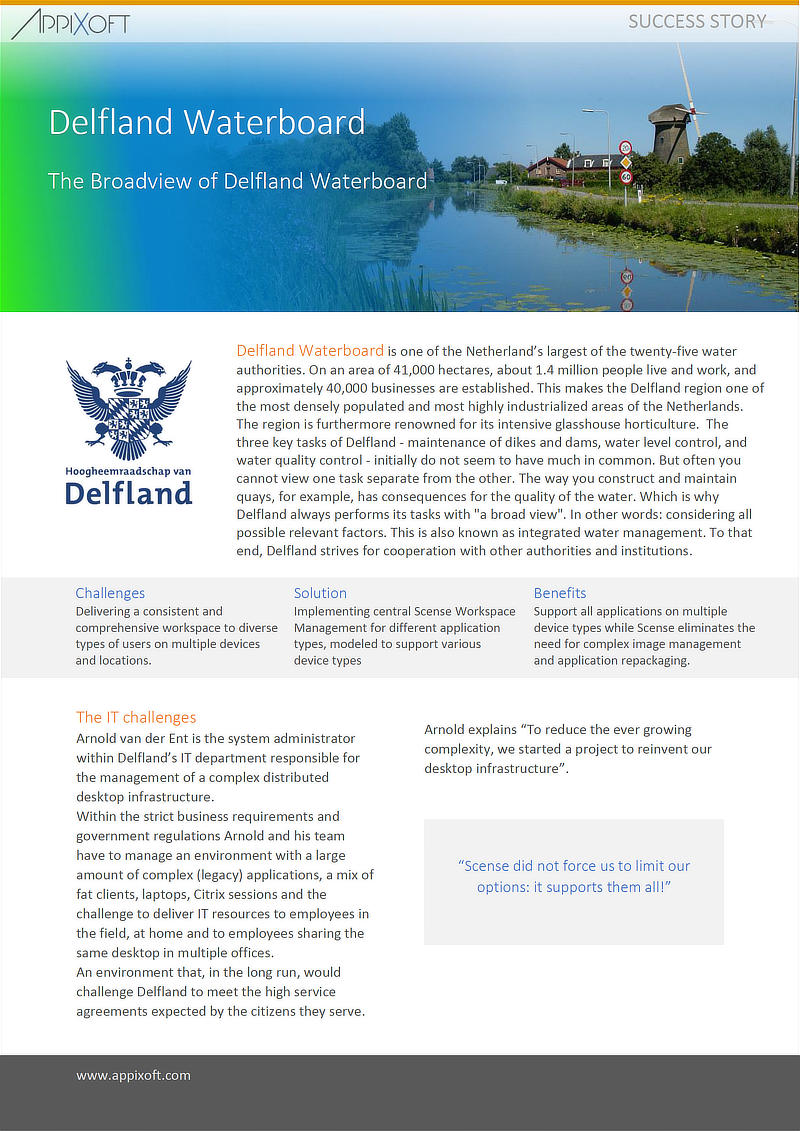 Fast adoption of new technology
Adopting new technology in government organizations tends to be slow and inconsistent. The resulting ICT infrastructure can be an uneasy mixture of new and legacy systems, often so unresponsive to end-user demands that both service providers and receivers end up thoroughly frustrated. And it's common knowledge that updating information or obtaining legal documents from local government is a lengthy business. Scense has a significant presence in government organizations because we understand and address these challenges.
How?
Scense's workspace management platform takes aboard the difficulties of managing a local government IT infrastructure and the demands of the local community and addresses all the major IT administration challenges. It helps to streamline processes, increase efficiency, add new functionality to essential operational systems, provide the business support needed to comply with strict reporting and budgetary regulations and, last but not least, improve services to employees and customers.
Workstation & workplace sharing
This is a common issue and one of the most complex to solve. Staff sharing the same workplace often use different applications and require different resources. This often leads to software conflicts and malfunctions and, ultimately, to system unavailability. Scense supports workplace sharing while providing the right content for each employee.
How?
Scense provides a platform, capable of maintaining multiple user profiles on one hardware device and eliminating any software incompatibilities. Applications can be distributed by location, user identity and/or time. This allows for transparent and secure application delivery. An extended feature is Scense Live Profiles, enabling employees to switch workstations swiftly and access their files and resources without consequences for global system availability or reliability.
Application management & support
A flood of regulations and requirements means that local governments have to deal with a large number of applications and ensure that they are available to the right people at the right time. The number of applications in use usually exceeds those in other organizations and the resources assigned to their management and support are excessive. Scense addresses this issue, decreasing the effort and costs involved in application management and support.
How?
Scense provides the tools for extensive application management and support. Administrators can fine-tune numerous software aspects such as shortcut placement, file-type associations and installation settings through the flexible session management tools. IT personnel can perform system alternations during the machine operation cycle, independently of the current user settings and without affecting the employee's work in progress. Application re-packaging effort decreases and the cost savings in management and support are significant.
Limited IT expertise
There are never enough people with sufficient knowledge to provide adequate IT support. User-oriented software like Scense is extremely easy and simple to operate. Learning cycles are short and people feel comfortable with the product after one or two training sessions.
How?
One of Scense's main goals is to simplify desktop management and application delivery. All daily tasks are available in intuitive user interfaces. Scripting and packaging can be a thing of the past. The user interface enables the management of hundreds of clients and workstations by just one or two administrators.
Co-operation & innovation
Because of budget cuts or demands of increased service levels, local governments join forces and IT resources to meet these demands. The complexity of the IT infrastructure that results from such cooperation efforts may be quite complex and hard to manage. With Scense they shouldn't have to be hard to manage.
How?
Scense allows local government departments to co-operate for service delivery or work optimization. With Scense, IT management has a clear understanding of the IT infrastructure and a strong grip on its management, and real innovation becomes possible. Once Scense is implemented, for example, migration to a virtualized desktop environment can take less than a day.
A user experience good enough for government work*
What makes for a good user experience you might wonder. The answer is simpler than you might expect. Most users greatly appreciate a desktop that never changes. If it looks and feels the same today as it did yesterday that's the foundation of a great user experience.
But that's not what the tech-world wants. Technology companies and tech-blogs are constantly pushing for change. IT-departments try to keep up with the new and wonderful, and in the meantime the gap between the 'company workspace' and the newest tech grows larger and larger. This would indicate that innovation and a good user experience do not go well together.
With this in mind we should always consider how changes might affect the user experience .
Start Improving Your User Experience Today
Organizing, optimizing and simplifying your desktop environment with Scense:
  Decrease IT-management effort
  Lower operational costs
  Bring down helpdesk calls
  Increase overall IT management level
  Improve overall performance and reliability
  Improve the User Experience